Regular price
Rs. 450.00
Sale price
Rs. 330.00
Unit price
per
Sale
Sold out
Product Description:
Neem & Tulsi Soap is a natural, handmade soap that is perfect for all skin types, including sensitive skin. It is made with neem oil and tulsi extract, two of nature's most powerful healing herbs. Neem oil is known for its Antibacterial, Antifungal, Acne treatment , Eczema treatment and anti-inflammatory properties, while tulsi extract is known for its antioxidant and soothing properties. Together, these two ingredients make Neem & Tulsi Soap an ideal choice for keeping your skin healthy and glowing.
Key Ingredients:
Crafted with a blend of nourishing oils including Coconut oil, jojoba oil, watermelon seed oil, sesame oil, sunflower oil, shea butter, olive oil, castor oil, neem oil, goat milk, gangajal, Lye and essential oil of Shyama tulsi.
How to Use:
Neem & Tulsi Soap, simply wet your face with warm water and rub the soap gently over your skin. Create a lather and massage it into your skin for 30-60 seconds. Rinse your face thoroughly with warm water and pat it dry.
Who Can Use Our Soap:
Our handmade Neem & Tulsi soap is suitable for both men and women aged 15 years and above. It is carefully designed to cater to all skin types.
Benefits:
Antibacterial properties protect against harmful bacteria.
Antifungal qualities guard against fungal infections.
Anti-inflammatory action soothes irritated skin.
Effectively heals acne and treats eczema.
Suitable for all skin types, providing versatile care.
Net Quantity: 2 X100 g each
Brand: Spirinat

USP : Rs2.25/gm
Share
View full details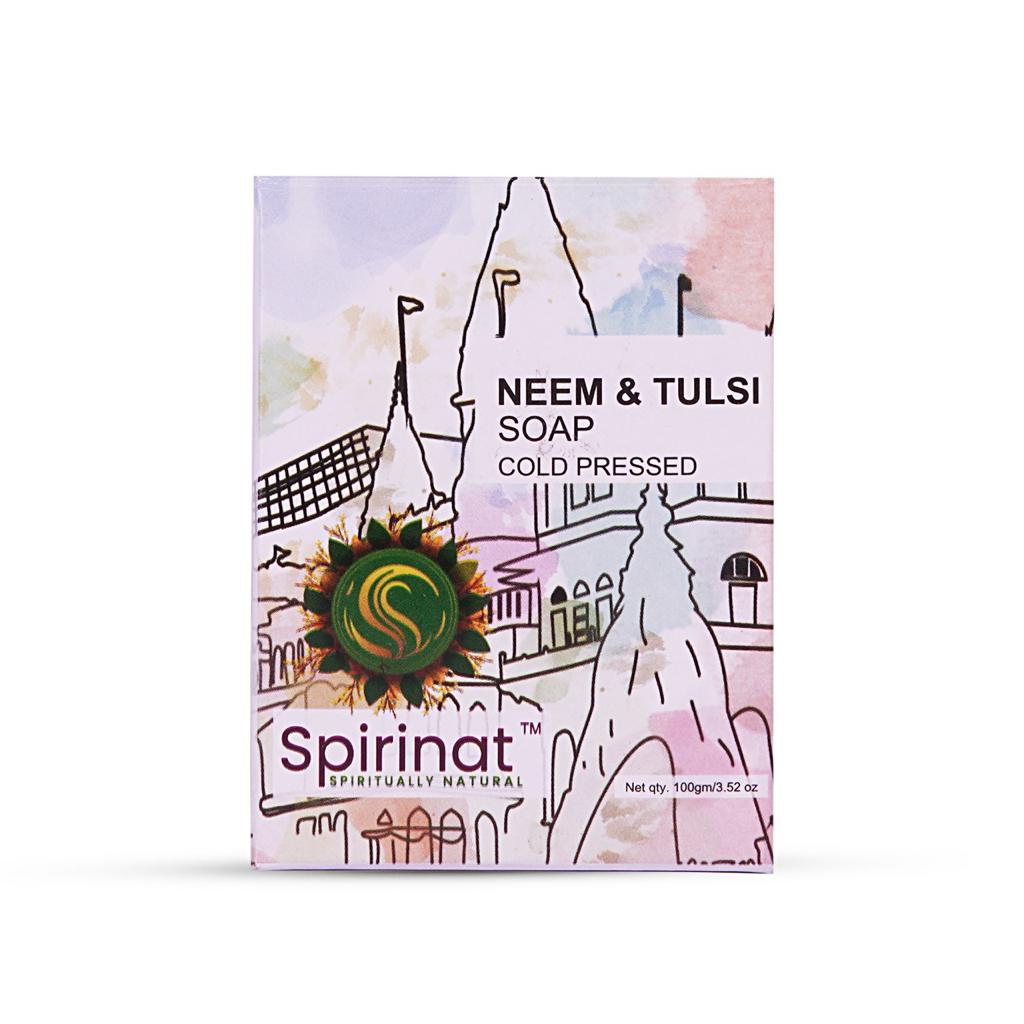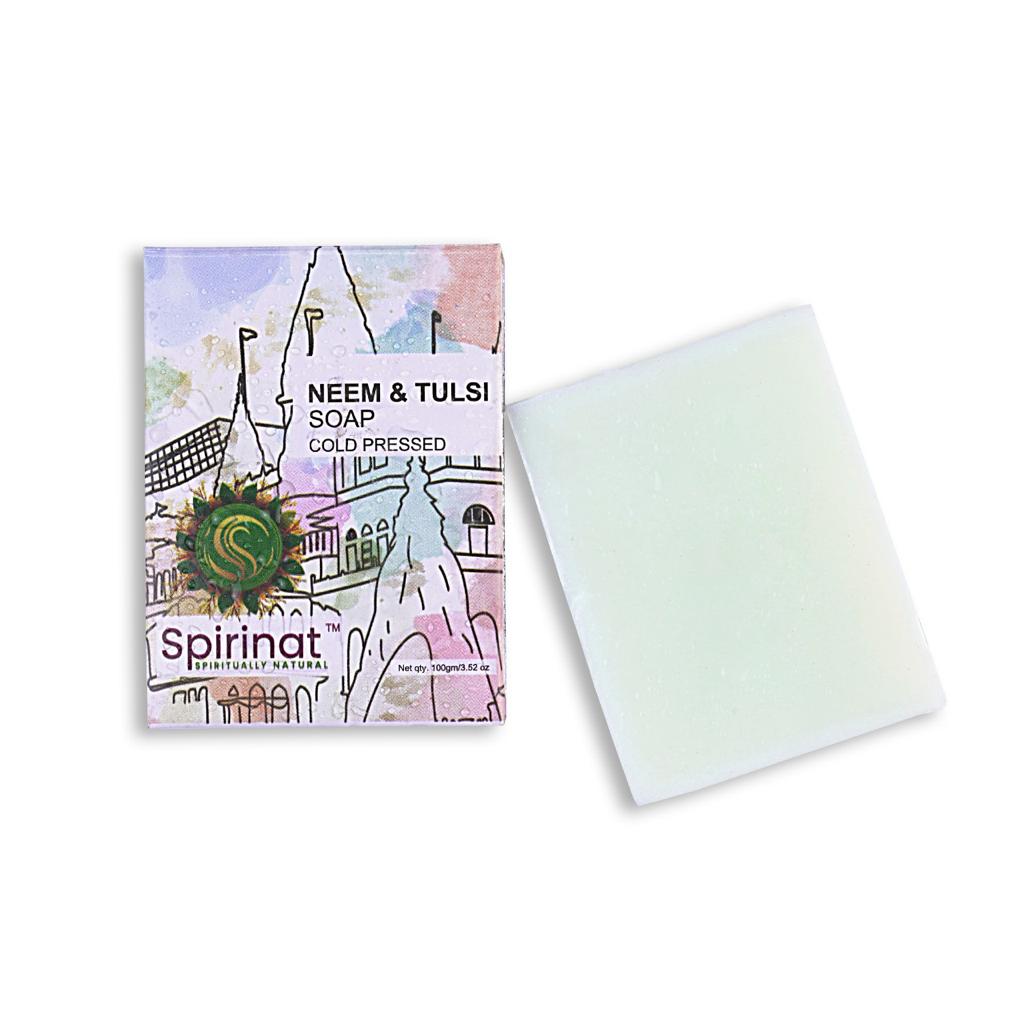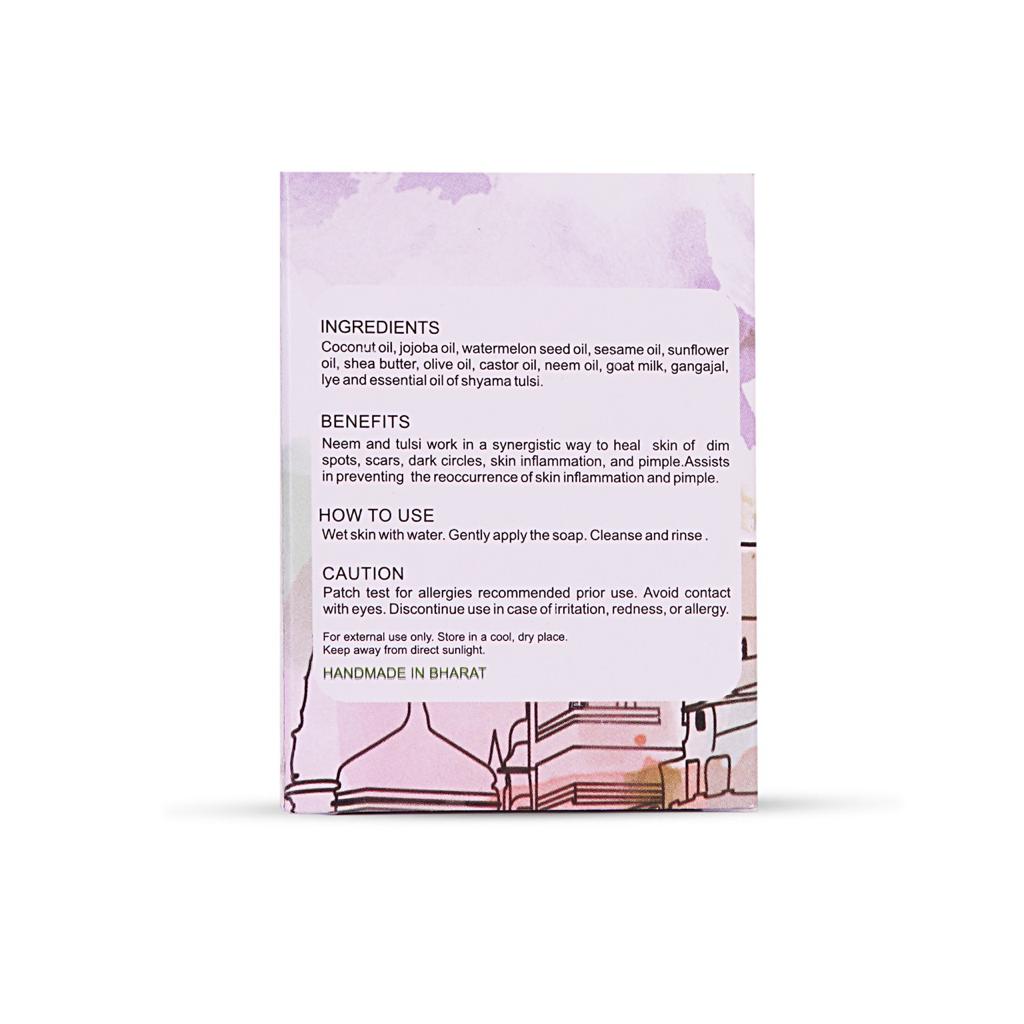 A Refreshing Blend of Nature's Goodness:
I recently discovered the Neem and Tulsi soap, and it has quickly become a staple in my daily skincare routine. This soap is a harmonious blend of two powerful natural ingredients, and it truly delivers on its promise of promoting healthy and radiant skin.
The standout feature of this soap is undoubtedly the refreshing scent. The combination of neem and tulsi creates a revitalizing aroma that instantly transports you to a serene garden. The fragrance is not overpowering but lingers subtly, leaving you feeling rejuvenated after every use.
I've noticed a positive difference in my skin's texture and tone since incorporating this soap into my routine. It leaves my skin feeling clean, refreshed, and noticeably softer. What's even more impressive is that it manages to cleanse without stripping away essential moisture, making it suitable for daily use.